Click thumbnails to view full-size images.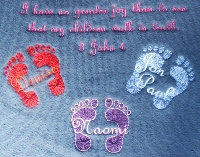 3 John 4 Parents' Sampler
This sampler design is a quotation from the Apostle of Love, "I have no greater joy than to hear that my children walk in truth. 3 John 4" Included are the Bible verse and three pairs of footprints on which you can add the names of children or grandchildren.
Whether framed as a sampler or embroidered on a tote or sweatshirt, it's perfect as a gift for parents and grandparents of grown - or nearly-grown - children. As sold, the design does not include names. You can use your own software to add names, or we will create names for you for $3 per name.
NOTE: A SPECIAL LICENSE PERMISSION applies to this design.