---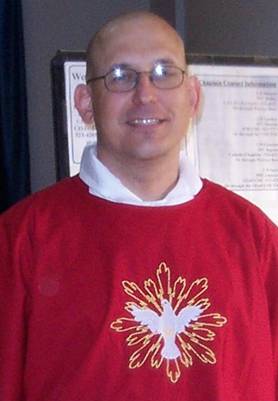 Father Jonathan, wearing vestments which he made for leading worship with soldiers in Iraq and decorated with his own embroidery designs.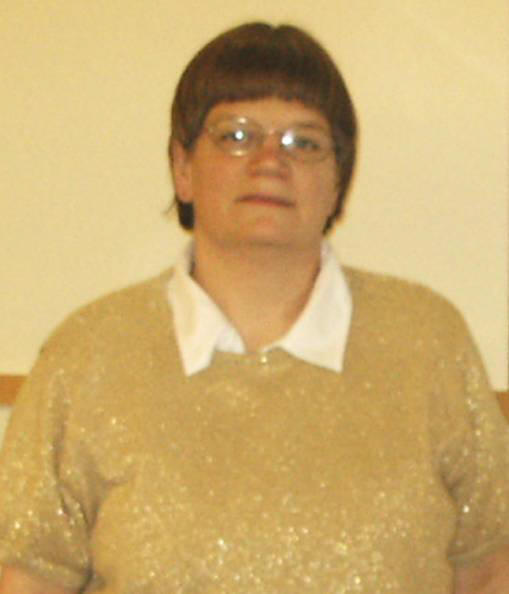 Rebeka, at a recent craft sale.
Hello, we are Father Jonathan Landon and Rebeka Landon, proprietors of Stitched With Grace.
In December 2016 we will celebrate our thirtieth wedding anniversary. When our children were young, Rebeka considered herself blessed to be able to be a full-time homemaker for most of that time, and she home-schooled our three children through most of primary and secondary school. Now they are grown and out on their own, Rebeka has become full-time caregiver for her mother, as well as attending to the embroidery business.
Father Jonathan is a priest in the Charismatic Episcopal Church. In 2012, he retired from the US Army after 28 years of military service.1 He is a combat Veteran, who deployed to Iraq (2005-2006) and to Kuwait (2009-2010). His specialized area of ministry is Hospital Chaplaincy, and he is currently a chaplain with the Department of Veterans Affairs. 2
Some time ago, Rebeka's mother gave us a second-hand embroidery machine. It was far from new, and lacks many capabilities found in current models. However, we bought Embird® software to create and edit embroidery designs for the machine and we took on a major project, producing name tapes and patches for our family's annual "Grandma Camp".
For several years, Rebeka's family conducted a week-long theme camp on 21 acres owned by her parents and sister in Oregon. It's fun, educational and very labor- intensive for all the adults involved. In about four months, we produced over 600 patches and name tapes. In the process we learned a lot about machine embroidery and design digitizing.
We had so much fun - despite the limited capabilities of our machine, that we decided to buy a more up-to-date machine. We bought a Brother PR600, a single-head, six-needle, commercial embroidery machine. We felt that we got a great deal on the machine, but still the cost was more than twice the cost of the minivan Father Jonathan drove to work at the time. To recover the cost of the machine, we acquired a business license and launched Stitched With Grace to create and sell embroidered products, as well as custom and stock designs.
Many of our designs reflect our Christian faith or our military experiences. We will not produce designs or products which - in our judgment - are inconsistent with the values of our Christian faith. Examples would include any design which represents or advocates illegal or immoral conduct, or which degrades any person or group.
1 Stitched With Grace is not affiliated with nor endorsed by the Charismatic Episcopal Church. For more information on the Charismatic Episcopal Church, click here.
2 The US Army and Department of Veterans Affairs are mentioned only as biographical details on the proprietors. Stitched With Grace is not affiliated with nor endorsed by the US Department of Defense, the US Department of Veterans Affairs or any government agency.