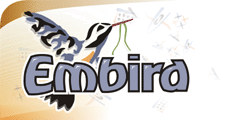 At the very beginning of our experiences with embroidery, we were looking for designs for a family project. We contacted a digitizer to find out what it would cost to have her create those designs. When she learned how big a project this would be - and how many designs were involved - she said we'd be much better off to buy the software and learn to make the designs ourselves.
She said that different brands of software are best for different kinds of projects, but for all-around capability, ease of learning and value for the price, you just can't beat Embird® software. We bought that software and have never regretted it! There's no embroidery digitizing or editing task we've ever needed that Embird® can't do.
Embird is not a single program. Rather, it is a suite of embroidery-related applications. Find a description of each application by following the links below.
1. Overview of Embird 2010® - The so-called "basic download", includes all of the following applications, though you may chose to register and use only some of them: Embird Manager®, Embird Editor®, Iconizer®, Font Engine®, Alphabets® and Cross Stitch®. Though the software to use Embird® Alphabets® is included in the download, you must also download and install each Alphabet® you want to use.
2. Overview of Studio® - This installation file includes two applications: Digitizing Tools® and Sfumato®.
3. Downloads. You can download and install any or all of the Embird® applications and use them for free (with trial period limitations).
3. Limitations During Trial Period.
4. Registration Page. You can download and install the Embird® applications for your free trial period, or purchase registration for any Embird® application.
---
[ Home ] [ Embird 2010 ] [ Studio ] [ Alphabets ] [ Downloads ] [ Trial Limits ] [ Registration ]
---
* The following are property of the Embird company: the hummingbird logo, Embird® brand name, application names Manager®, Editor®, Iconizer®, Font Engine®, Alphabets® and Cross Stitch®. Stitched With Grace is an independent distributor of Embird® software.